Star Trek
Release Date:
7
th
April 2009 – Australia
(premiere)
Production Companies
Paramount Pictures (presents)
Spyglass Entertainment (presents)
Bad Robot Productions
Mavrocine
Distribution
Paramount Pictures Australia
Genre:
Sci-Fi
Rating: M
Runtime: 127 minutes
Budget: $150,000,000
Box Office Gross: $385,680,446
(Worldwide)
Plot Summary
The cocky, renegade James
Kirk and the equally youthful
half-Vulcan, half-human
Spock are among the young
members of a fledgling
Starfleet crew, and about to
launch the most advanced
starship ever created: the
U.S.S. Enterprise. During
their incredible galactic
voyage of exploration and
discovery, they will encounter
the evil Nero whose mission
of vengeance threatens all
of mankind.
Cast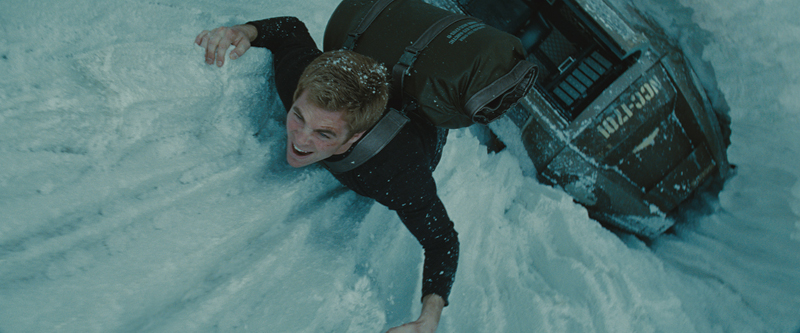 Chris Pine – James T. Kirk
Jimmy Bennett – Young James T. Kirk
Zachary Quinto – Spock
Jacob Kogan – Young Spock
Karl Urban – Dr. Leonard "Bones" McCoy
Zoe Saldana – Uhura
Simon Pegg – Montgomery 'Scotty" Scott
John Cho – Hikaru Sulu
Anton Yelchin – Pavel Chekov
Eric Bana – Nero
Bruce Greenwood – Christopher Pike
Chris Hemsworth – George
Samuel Kirk, Sr
Ben Cross – Sarek
Winona Ryder – Amanda Grayson
Leonard Nimoy – Elder Spock
Farah Tahir
–
Captain Robau
Jennifer Morrison
– Winona Kirk
Crew
Based on Television Series –
Gene Roddenberry
Producer/Director – J.J. Abrams
Writers/Executive
Producers – Alex Kurtzman & Roberto Orci
Producer – Damon Lindelof
Co-Producer/Unit Production Manager
–
Production Designer – Scott Chambliss
Conceptual Illustrator – John Eaves
Delta Vega Creatures, Romulans, Insect
and Aliens Designer
– Neville Page
Prosthetic Make-Up Designer – Barney
Burman
Prosthetic Make-Up Supervisor – Joel
Harlow
Costume Designer
– Michael Kaplan
Director of Photography – Daniel Mindel
Visual Efffects Supervisor/Second Unit
Director – Roger Guyett
Visual Effects Supervisor: ILM – Russell Earl
Visual Effects Producer
– Shari Hanson
Sound Designer/Editor – Ben Burtt
Film Editors – Maryann Brandon & Mary Jo
Markey
Composer: Theme "Star Trek" –
Alexander Courage
Music – Michael Giacchino
Awards
2010 Academy Awards
Best Makeup - Barney Burman, Mindy Hall
& Joel Harlow (Won)
--------------------------
Best Sound Mixing - Anna Behlmer,
Andy Nelson & Peter J. Devlin (Nominated)
Best Sound Editing - Mark P. Stoeckinger
& Alan Rankin (Nominated)
Best Visual Effects - Roger Guyett,
Russell Earl, Paul Kavangh &
Burt Dalton (Nominated)
Review
The new version of the STAR TREK movie lives up to the classic TV series since it has rebooted the franchise. The storyline was smart but very unusual and introduced new interesting concepts such as Red Matter. J.J. Abrams' direction of the reboot was so very sophisticated in style. The visual effects of the movie were great and the actors Chris Pine and Zachary Quinto did a spectacular job of playing Kirk and Spock and so does the Aussie actor Eric Bana as the Romulan villain Nero. I was delighted to see the return of the original actor that played Spock, Leonard Nimoy who portrays as the elder version of the iconic character.

I'm not a big fan of STAR TREK, but I must say that this film is excellent and enjoyable for Trekkies since it has rebooted the entire franchise all over again.
Star rating: (5/5) Best Movie Ever