The Big Year
Release Date:
1st March 2012 - Australia
Production Companies
Fox 2000 Pictures (presents)
Red Hour Films
Deuce Three
Sunswept Entertainment
Dune Entertainment (made in association
with)
Ingenious Media (made in
association with)
Distribution
20th Century Fox Australia
Genre: Comedy
Rating: PG
Runtime: 95 minutes


Budget: $41,000,000

Box Office Gross: $7,448,385
(Worldwide)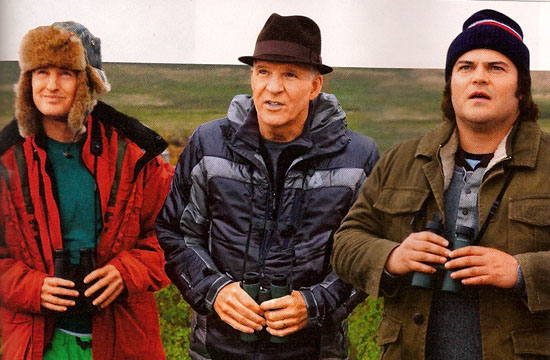 Plot Summary
Looking to shake up their
routine lives, three amateur
watchers compete to
become the ultimate "birder"
by spotting the greatest
number of species within
a single calendar year. But
the friendly rivalry soon turns
into a hilariously complicated
cross-country adventure as
each man begins to realise
that the quest for success
comes at a price - and that's
not chicken feed!
Cast
Jack Black - Brad Harris
Steve Martin - Stu Preissler
Owen Wilson - Kenny Bostick
Rosamund Pike - Jessica Bostick
Rashida Jones - Ellie
Anjelica Huston - Annie Auklet
Jim Parsons - Crane
JoBeth Williams - Edith Preissler
Brian Dennehy - Raymond Harris
Dianne Wiest - Brenda Harris
Anthony Anderson - Bill Clemens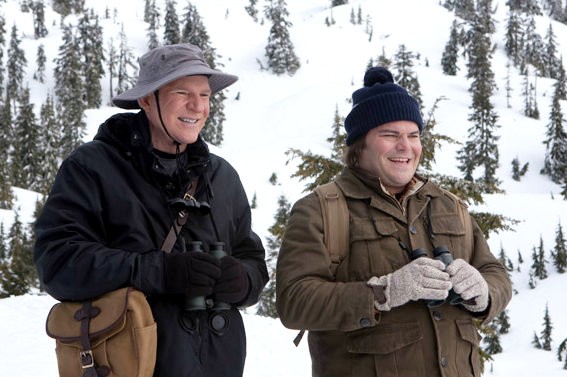 Joel McHale - Barry Loomis
Kevin Pollak - Jim Gittelson
Calum Worthy - Colin Debs
John Cleese - Historical
Montage
Narrator (Cameo)
Crew
Director - David Frankel
Inspired on Novel "The Big
Year:
A Tale of Man, Nature
and Fowl Obsession" - Mark
Obmascik
Screenplay - Howard Franklin
Producers - Karen Rosenfelt,
Stuart Cornfield and Curtis Hanson
Co-Producer - Brad Van Arragon
Production Designer - Brent Thomas
Costume Designer - Monique Prudhomme
Director of Photography - Lawrence Sher
Film Editor - Mark Livolsi
Music Supervisor - Julia Michels
Music - Theodore Shapiro
Review
I must say, it felt somewhat of a task to have to sit through the two hour entirety of THE BIG YEAR; its stars which included Jack Black, Owen Wilson and Steve Martin were unable to recover this movie from being a corny second rate comedy bomb. Honestly, there is nothing very special about this movie, although there is the occasional laugh present in some scenes of worth-watching. This tolerable comedy's setting is mainly about bird-watching and I'm not interested in this old-fashioned hobby, having to make fun of the concept is an extremely difficult challenge.

The three actors Jack, Steve and Owen whom I've already mentioned, are a dream team of comedians, but it was disappointing that they have to sit through a film that is partially a comedy. Few of the other actors like Jim Parsons of BIG BANG THEORY did a good job on the supporting roles but I should wish his character would be given more of a presence, instead of him being under the radar.
I
do certainly enjoy the occasional comedy film, but it should be more of a drama and THE BIG YEAR simply does not cut the mustard or the cheddar!
Star rating:
(6/10) Fair Movie