Up
Release Date: 3rd September 2009 - Australia
Production Companies
Walt Disney Pictures (presents)
Pixar Animation Studios
Distribution
Walt Disney Studios Motion
Pictures Australia
Genre: Animation/Family
Rating: PG


Runtime: 91 minutes


Budget: $175,000,000

Box Office Gross: $731,342,744
(Worldwide)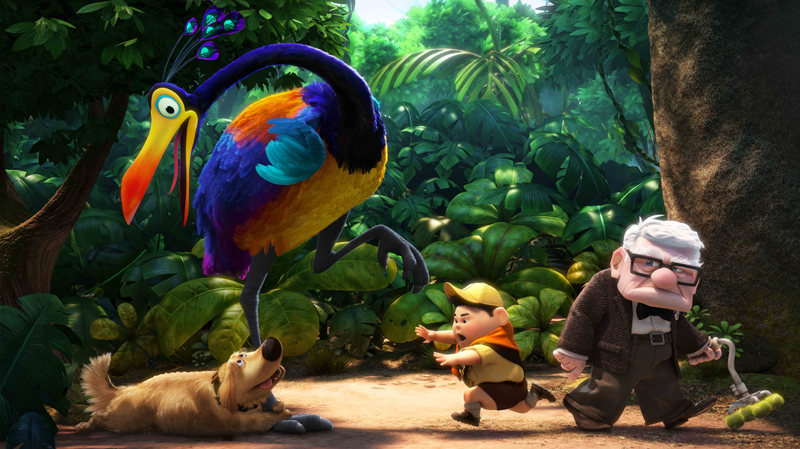 Plot Summary
Carl Fredricksen, a retired
balloon salesman, is part
rascal, part dreamer who
is ready for his last chance
at high-flying excitement.
Tying thousands of balloons
To his house, Carl sets off
to the lost world of his
childhood dreams.
Unbeknownst to Carl,
Russell, an overeager 8-year
old Wilderness explorer who
has never ventured beyond
his backyard, is in the wrong
place at the wrong time -
Carl's front porch!
The world's
most unlikeable
meet fantastic
friends like Dug,
a dog with a
special collar that
allows him to
speak, and
Kevin,
a rare 13-
foot-tall
flightless bird.
Stuck
together
in the wilds of
the
jungle, Carl
realises that
sometime life's
biggest adventures aren't the
ones you set looking for.
Voice Cast
Edward Asner - Carl Fredricksen
Jordan Nagai - Russell
Christopher Plummer - Charles
Muntz
Bob Peterson - Dug/Alpha
Pete Docter - Kevin/
Campmaster Strauch
Delroy Lindo - Benta
Jerome Ranft - Gamma
John Ratzenberger - Construction
Foreman Tom
Elie Docter - Young Ellie
Jeremy Leary - Young Carl
Crew
Story/Screenplay/Director - Pete Docter
Story/Screenplay/Co-Director - Bob Peterson
Story - Tom McCarthy
Additional Screenplay Material/Story Supervisor/
Storyboard Artist (Uncredited) - Ronnie Del Carmen
Executive Producers - John Lasseter and
Andrew Stanton
Producer - Jonas Rivera
Production Designer - Ricky Nierva
Character Supervisor - Thomas Jordan
Animation and Crowds Supervisor - John Pottebaum
Supervising Animator - Scott Clark
Director of Photography: Camera - Patrick Lin
Director of Photography: Lightning - Jean-Claude Kalache
Film Editor - Kevin Nolting
Sound Designer - Tom Myers
Music - Michael Giacchino


Awards

2010 Academy Awards
Best Animated Feature - Pete Docter (Won)
Best Music - Michael Giacchino (Won)
------------------------
Best Picture - Jonas Rivera (Nominated)
Best Writing, Original Screenplay - Bob Peterson,
Pete Docter and Tom McCarthy (Nominated)
Best Sound Editing - Michael Silvers and
Tom Myers (Nominated)
Review
It can be said that PIXAR has consistently shown the ongoing stories of heartwarming magic for the young and old over the decades since TOY STORY (

click here

) when they first introduced CGI features to the world in 1995. Upon its release about in 2009, UP ended up as
one of the studio's last two critically acclaimed endeavours and not all of us have responded positively to this charming, new age, milestone classic. I however find it a little too similar to its previous feature WALL-E (

click here

). Sure the characterisation is nice and colourful but there's not so much to say about the comedy and drama in this movie as it was rather predictable.
The highlight of this film was the montage scene where Carl and Ellie are married and something tragic befalls them. Not even Wes Anderson can replicate a moment of this affecting sadness and poignancy. I understood the message that this film communicates which is that life is one big adventure and that you should live life to your fullest potential and follow your wildest dreams. Unfortunately, this can't save UP from its small imperfections. I felt that Christopher Plummer's voice acting has really iced the cake and he does an impressive antagonist portrayal than few of his other villainous roles.
That being said, UP is a semi-decent movie but I'm not so much on the plot though, I am a tough critic when it comes to animation films as I have viewed and reviewed many of them so that being said, I think if you have not much experience with this type of film, than it might be more appealing to you.
Star rating:
(7/10) Good Movie