Indiana Jones and the Last Crusade

Release Date:
8th June 1989 - Australia
Production Companies
Paramount Pictures (presents)
Lucasfilm
Genre:
Action/Adventure
Rating:
PG
Runtime:
127 minutes
Budget:
$48,000,000
Box Office Gross:
$474,171,806
(Worldwide)
Plot Summary
The year is 1938. Twenty-
six years ago, young Indiana
Jones was thwarted in an
attempt to retrieve the
legendary Cross of Coronado
from the hands of robbers.
But an older, wiser and
stronger Indy has finally
returned the jewel encrusted
Cross of Coronado to his
boss, Marcus Brody.
Almost as soon as he arrives
back at his quiet, New
England college, though,
Indy is whisked away by
representatives of multi-
millionaire Walter Donovan,
who has unearthed a mysterious
stone. Indy recognizes it as
the first of three long-buried
markers that reveal the location
of the Holy Grail itself.
Cast
Harrison Ford - Dr. Indiana Jones
Sean Connery - Professor Henry Jones
Denholm Elliott - Dr. Marcus Brody
Alison Doody - Dr. Elsa Schneider
John Rhys Davies - Sallah
Julian Glover - Walter Donovan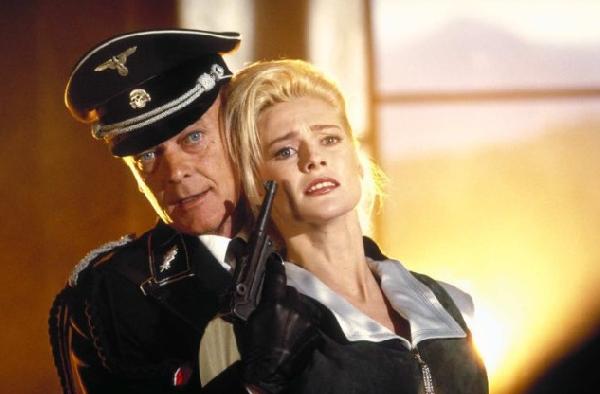 River Phoenix - Indiana Jones (aged 13)
Michael Byrne - Colonel Ernst Vogel
Kevork Malikyan - Kazim
Robert Eddison - The Grail Knight
Alex Hyde-White - Young Henry
Jones
Crew
Director - Steven Spielberg
Screenplay - Jeffrey Boam
Story - Menno Meyjes
Characters - Philip Kaufman
Story/Characters/Executive Producer/
Film Editor (Uncredited) - George Lucas
Producer - Robert Watts
Production Designer - Elliott Scott
Costume Designers - Joanna Johnston & Anthony Powell
Cinematography - Douglas Slocombe
Stunt Coordinator - Vic Armstrong
Special Effects Supervisor: USA - Michael Lantieri
Mechanical Effects Supervisor - George Gibbs
Visual Effects Supervisor - Michael J. McAlister
Film Editor - Michael Kahn
Sound: Design/Re-Recording Mixer - Ben Burtt
Music - John Williams
Awards
1990 Academy Awards
Best Sound Editing - Ben Burtt &
Richard Hymns (Won)
----------------------
Best Sound - Ben Burtt, Gary Summers,
Shawn Murphy & Tony Daw (Nominated)
Best Original Score - John Williams (Nominated)
Review
Definitely the second best movie ever in the trilogy, INDIANA JONES AND THE LAST CRUSADE had a great story that deals about the father-son relationship between the two Jones, Indiana and Henry as well as the Holy Grail which is a bit similar to the MONTY PYTHON movie. I enjoyed the action and the humour as well as the performances of (James Bond actor) Sean Connery as Indiana's estranged father and River Phoenix as young Indiana. I particularly loved two scenes where young Indiana is jumping on the rooftops of the train cabins and falls into one of cabins and to his shock finds a collection of vicious snakes and motorcycle chase scene where Indy and his father Henry are escaping from the Nazis.
Overall, this is the last INDIANA JONES movie until 2008 when THE KINGDOM OF CRYSTAL SKULL was brought to the fans at last. There has been talks of the fifth instalment of INDIANA JONES.
Star rating:
(5/5) Best Movie Ever