Barnyard
Nickelodeon Movies
O Entertainment
Distribution
Paramount Pictures Australia
Genre: Animation/Family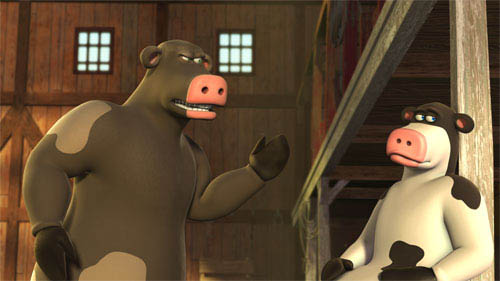 Rating: PG
Runtime: 90 minutes
Budget: $51,000,000
Box Office Gross: $116,476,887
(Worldwide)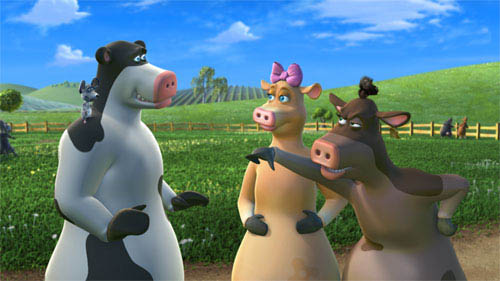 Plot Summary
When the farmer's away, all
the animals play ... and sing,
and dance. Eventually, though,
someone has to step in and
run things, a responsibility
that ends up going to Otis,
Voice Cast
Kevin James - Otis
David Koechner - Dag
Jeff Garcia - Pip
Courtney Cox - Daisy
Wanda Sykes - Bessy
Sam Elliott - Ben
Danny Glover - Miles
Rob Paulsen - Peck/Pizza
Twin #1
Tino Insana - Pig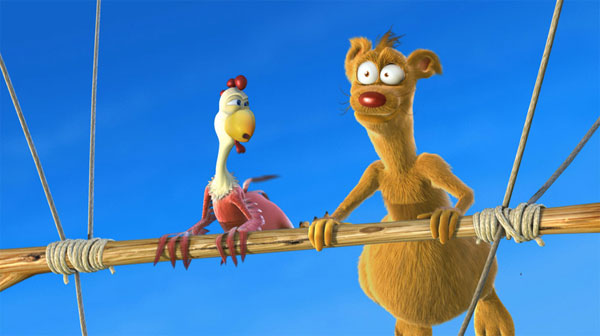 Cam Clarke - Freddy the
Ferret
Dom Irrera - Duke
Andie MacDowell - Etta
Madeline Lovejoy - Maddy
S. Scott Bullock - Eddy
Maurice LaMarche - Igg
John DiMaggio - Bud/Officer
O' Hanlen
Maria Bamford - Mrs. Beady
Crew
Writer/Producer/Director -
Steve Oedekerk
Producers - Pam Marsden and
Paul Marshal
Production Designer/Art
Director - Phillip A. Cruden
Lead Animation Supervisor -
David Andrews
Film Editors - Paul D. Calder
and Billy Weber
Music - John Debney
Review
BARNYARD is an extremely weird kiddie-loose comedy. Created by the same makers that did JIMMY NEUTRON. I found BARNYARD to be a product of shame from the network and a disappointment for the film's creators. Throughout the movie on its 90 minute duration, a number of mediocre aspects really let this film down. The computer animation is so low-budget and makes you wonder why the creator wanted the male cows to have utters to be funny since it's not in their biology. The storytelling is un-original in the sense when some of its themes were cut or taken from Disney's THE LION KING (
click here
), for example, its overarching theme to grow up and be more responsible; the main character's (Otis) carefree lifestyle is similar to Simba's. For me, this film was an uninteresting comedy with a most unconvincing set of jokes (save for some of the ones like the part where the cows do "boy tipping").
I almost didn't recognise some of the film's characters but I now know that Kevin James, Danny Glover and Sam Elliott were three of the main voices on the film. I already knew Wanda Sykes was in the film, this was known to be her third voice role. How unfortunate that it could not have been a more successful animated comedy.
I recommend you not watch this film, if you have a high expectation as it does not come close to the standards. It's mooore of a younger audience appeal and you must bury the movie under a haystack. I have not watched the TV show, after seeing this movie, I don't want to watch its episodes.
Star rating:
(4/10) Below Average