Madagascar
Release Date:
16th June 2005 - Australia
Production Companies
DreamWorks SKG
Pacific Data Images (PDI)
DreamWorks Animation
Distribution
Paramount Pictures Australia
Genre:
Animation/Family
Rating:
PG
Runtime:
86 minutes
Budget:
$78,000,000
Box Office Gross:
$532,680,671
(Worldwide)
Plot Summary
Pampered and provided for
at New York's Central Park
Zoo, life

couldn't

be better
for Alex the Lion, Marty the
Zebra, Melman the Giraffe
and Gloria the Hippo.
They've

lived all their lives
in captivity, been served
good meals every day and
visited by an adoring public.
Things are about to change.
Marty is curious about the
world beyond their idyllic
surroundings and escapes
with the help of a group
of penguins. Alex, Melman
and Gloria go after him,
but their life on the outside
comes to an abrupt end
when they are rounded up
and shipped off to Africa
where they will be set free.
Voice Cast
Ben Stiller - Alex the Lion
Chris Rock - Marty the Zebra
David Schwimmer - Melman
the Giraffe
Jada Pinkett-Smith - Gloria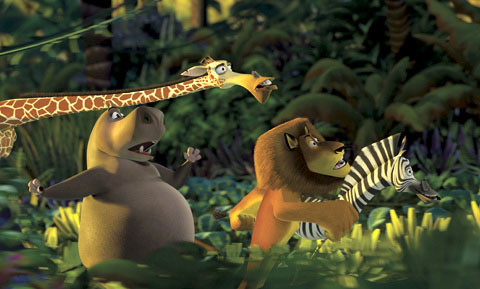 the Hippo
Sacha Baron Cohen - King
Julien
Cedric the Entertainer - Maurice
Andy Ritcher - Mort
Tom McGrath - Skipper
Chris Miller - Kowalski
John DiMaggio - Rico (Uncredited)
Christopher Knights - Private
Conrad Vernon - Mason
Crew
Writers/Directors - Eric Darnell
& Tom McGrath
Writers - Mark Burton & Billy Frolick
Producer - Mireille Soria
Production Designer - Kendal Cronkhite
Lead Character Designer - Craig Kellman
Art Director - Shannon Jeffries
Head of Effects - Scott Singer
Visual Effects Supervisor - Philippe Gluckman
Film Editors - Clare De Chenu,
Mark A. Hester & H. Lee Peterson
Music - Hans Zimmer
Review
MADAGASCAR has a lot of good characters like those penguins as well as the story, but some of the humour including the jokes is either a hit or miss. It compliments with a good quality of computer animation and brilliant voice talents from Ben Stiller, Chris Rock, David Schwimmer, Jada Pinkett Smith and Sacha Baron Cohen.
I'm no fan of the series, but I can say with confidence that the first MADAGASCAR film is definitely way better than the other CGI movie THE WILD (
click here
) and it has a really good sign to it. I can't wait to review the third sequel EUROPE'S MOST WANTED and I just hope it meets the expectations of the fans.
Star rating:
(4/5) Good Movie