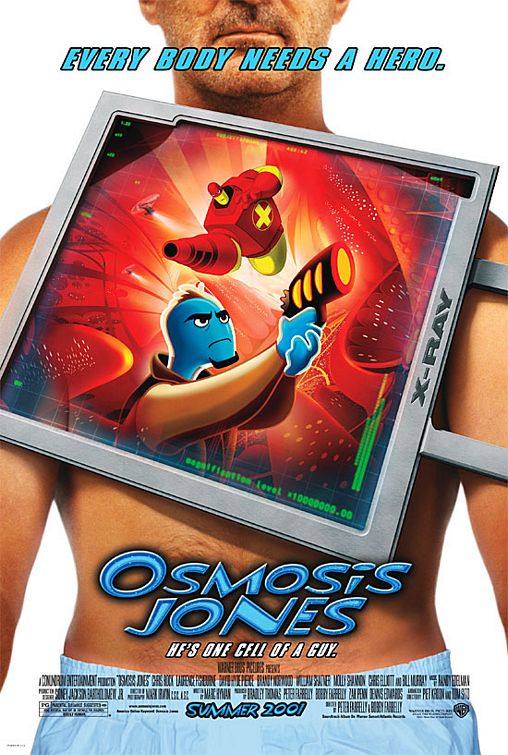 Osmosis Jones
Release Date:
1st August 2002 - Australia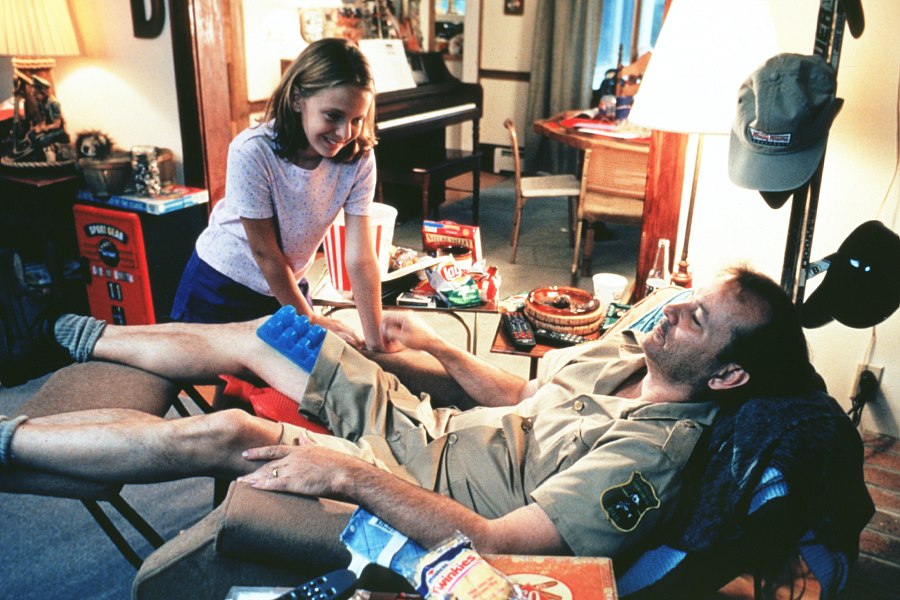 Production Companies
Warner Bros. Pictures
Conundrum Entertainment
Genre:
Family
Rating:
PG
Runtime:
95 minutes
Budget:
$70,000,000
Box Office Gross:
$14,026,418
(Worldwide)
Plot Summary
Frank, whose body is the
"City of Frank" and host
to its inhabitants, falls
victim a viral infection.
It's up to white blood cell
cop Osmosis Jones, who
patrols the city, to fight
against the biological clock
and stop the invading
virus with the help of a
cold tablet named Drix.
Voice Cast
Chris Rock - Osmosis Jones
David Hyde Pierce - Drix
Laurence Fishburne - Thrax
Brandy Norwood - Leah
William Shatner - Mayor Phlegmming
Ron Howard - Tom Colonic
Kid Rock, Joe C, Uncle
Cracker, Kenny Olson,
Stefanie Eulinberg,
Jason Krause and Jimmy
Bones - Kidney Rock (Cameos)
Live Action Cast
Bill Murray - Frank Detorre
Elena Franklin - Shane Detorre
Molly Shannon - Mrs. Boyd
Chris Elliott - Bob
Crew
Producers/Directors - Peter and Bobby Farrelly
Animation Directors - Piet
Kroon and Tom Sito
Writer - Marc Hyman
Head of Story/Storyboards - Mark Andrews
Producers - Dennis Edwards,
Zak Penn and Bradley Thomas
Co-Producer - Marc S. Fischer
Production Designer:
Animation - Steve Pilcher
Production Designer: Live
Action - Sidney Jackson Bartholomew, Jr.
Animation Character Designer - Caroline Hu
Special Makeup Designer: Live
Action Sequences - Tony Gardner
Costume Designer - Pamela Ball Withers
Director of Photography - Mark Irwin
Head of Background - Dennis Venizelos
Film Editors - Lois Freeman-Fox,
Stephen R. Schaffer and Sam Seig
Music - Randy Edelman
Review
In my response to watching INSIDE OUT (
click here
) which takes place in the human mind on the inside
, I decided that my next review of a film to be
OSMOSIS JONES which it is overlooked and
serves as an inspiration for PIXAR's latest animation. This live action/animated comedy was made

in 14 years

before both Disney and PIXAR took the concept in reverse and made it through succession. Instead of the setting being in the subconsciousness, the plot shows the other way around centered on the human body's immune system patterned with clichés seemingly reminiscent of many buddy cop flicks.
I had a history of watching OSMOSIS as a kid and before that I watched the
television spin-off OZZY & DRIX
on the Cartoon Network as I have never seen the original film before. I give thanks to OSMOSIS for its potential, character design and vivid-like animation but the live action segments were painfully slow in a rapture as
these suffer from the hallmarks typical of the lesser film efforts of direction of the Farrelly brothers. I do not like the film of how it is baulked
with juvenile displays of flatulence and toilet humour that puts disgust into it.
Aside the courtesy of bathroom jokes, I have mixed feelings about the casting in this picture. In the live action scenes, the choice of hiring
Bill Murray to play the main human is definitely not the suitable type needed for this role. The fact that this character Frank should have been overweight and more appropriately given to a notable large-weight actor. The voice acting for the animation scenery is much better when it has characters that are voiced by Chris Rock, David Hyde Pierce and William Shatner who show lots of enthusiasm and energy. A highlight of the vocal performances is
Laurence Fishburne for doing a sinisterly turn as Thrax, what's interesting about this virus character is that he kills others in a gruesome
enough manner to provoke the film into having a PG rating.
I don't hate this movie as I occasionally
re-watch it a few times. Why is it that OSMOSIS JONES can't be a self-serving picture when it's not giving us good health? For target audiences, this is for young children as this feature film generally only fits into their appeal.

Star rating: (4/10) Below Average