Ace Ventura: Pet Detective
Release Date: 28th April 1994 - Australia
Production Companies
Genre: Comedy
Rating: M
Plot Summary
To be a Pet Detective, you
have to understand both
the criminals and animals.
Ace Ventura goes even
further... He behaves like a
criminal animal. When a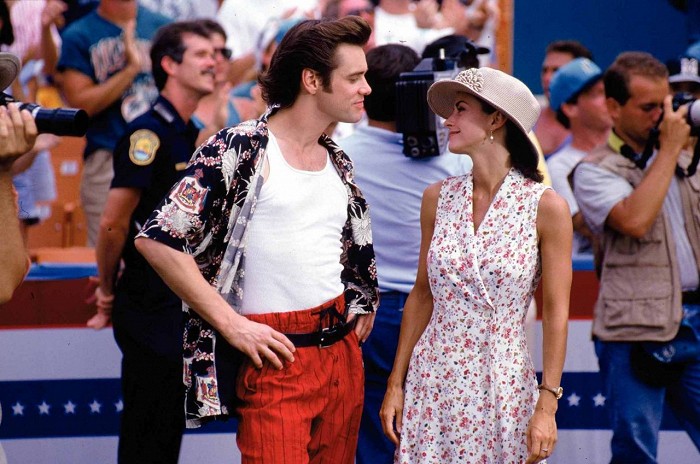 football team's mascot (a
dolphin) is stolen just
before the Super Bowl, Ace
Ventura is put on the case.
Now, who would want to
steal a dolphin, and why?
Cast
Jim Carrey - Ace Ventura
Courtney Cox - Melissa Robinson
Sean Young - Lt. Lois Einhorn
Tone Lōc - Emilio
Dan Marino - Himself
Troy Evans - Roger Podacter
Raynor Scheine - Woodstock
Udo Keir - Ronald Camp
Noble Willingham - Riddle
John Capodice - Sgt. Aguado
Crew
Screenplay/Director - Tom Shadyac
Story/Screenplay - Jack Bernstein
Screenplay - Jim Carrey
Producer - James G. Robinson
Production Designer - William
Elliott
Director of Photography - Julio Macat
Film Editor - Don Zimmerman
Music - Ira Newborn
Review
I originally thought that the first ACE VENTURA movie was just as solid as the other works that featured the funny man Jim Carrey, even the sequel WHEN NATURE CALLS (
click here
) that I once explored is equally a great chapter. I now find myself a self-confessed fanatical viewer for the comedian and his creative genius of unleashing spontaneous/manic humour and energy into some of his well-known roles. Because of the
DUMB & DUMBER sequel that has been released in Australia
, I decided to analyse the first instalment and several other Carrey classics (if some are lesser known) in preparation to celebrate the new and latest addition. It was the inception of Jim's career as a talented movie star and in this film, and what a solid beginning to a career indeed. It was truly satisfying in mastering a plot that is both amusing and presenting complex plot twists.
Jim is responsible for shaping and crafting his unique/memorable title character, the one quality that Carrey achieves is in every scene he manages to maintain exceptional humour which can be appealing through a wide market of movie-goers. His co-stars Sean Young and Courtney Cox were competent in their roles but not matching the finesse of Jim. I remember loving the part where Ace disguises himself as a patient in a mental institution.
ACE VENTURA was at the reins as almost one of the greatest top Carrey films of all time which is taken by as the movie DUMB & DUMBER (

click here

) which shines through as the un-defeated comedy that Carrey is particularly proud of.
Star rating: (8/10) Very Good Movie