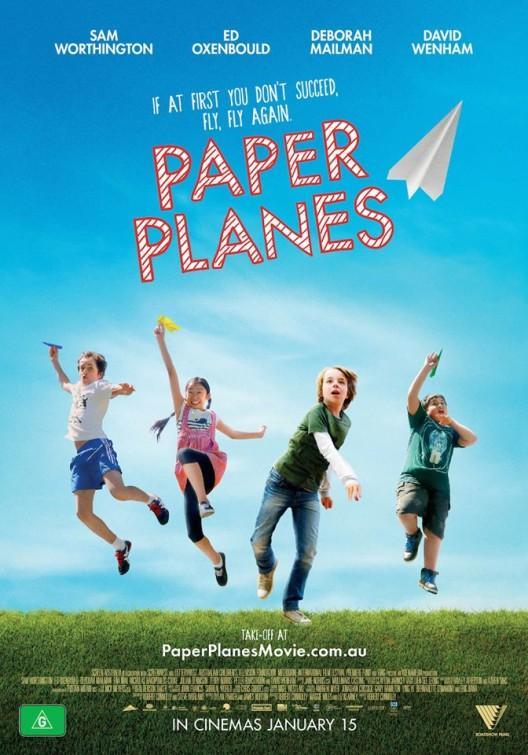 Paper Planes
Release Date: 10th August 2014 - Australia
(Melbourne International Film Festival)
Production Companies
Screen Australia
Australia Children's Television
Foundation (in association with)
ScreenWest (in association with)
Premiere Fund (in association with)
EMIG (in association with)
Arenamedia
Distribution
Roadshow Distribution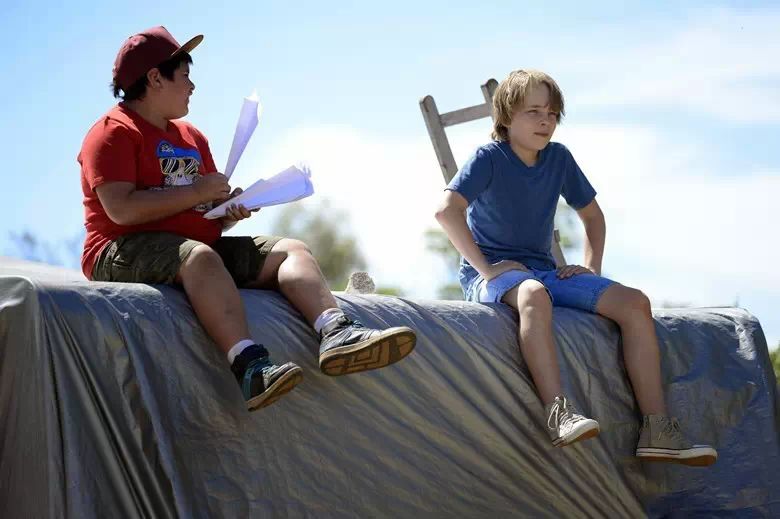 Archlight Films
Genre: Family
Rating: G
Runtime: 96 minutes


Box Office Gross: $7,360,872
(Australia)
Plot Summary
Paper Planes is a family
film that tells the story of
a young boy's passion for
flight and his journey to
compete in the world
paper plane championships
in Japan. This universal
heart warming journey
of a young boy and his
father reconnecting after
a family's struggle will
have us cheering them
all the way to the world
championships of paper
plane flying.
Cast
Ed Oxenbould - Dylan
Sam Worthington - Jack
Nicholas Bakopoulous-
Cooke - Jason
David Wenham - Patrick
Ena Imai - Kimi
Deborah Mailman - Maureen
Peter Rowsthorn - Mr. Lickenhooper
Crew
Writer/Producer/Director -
Robert Connolly
Based on a Inspiration/Paper Plane Consultants - Dylan Parker and James Norton
Writer - Steve Vorland
Executive Producers - Eric Bana, Jonathan Chissick, Gary Hamilton, Andrew Myer, Bernadette O'Mahony and Ying Ye
Producers - Liz Kearney and
Maggie Miles
Production Designer - Clayton Jauncey
Costume Designer - Lien See Leong
Director of Photography - Tristan Milani
Visual Effects Supervisor - John Francis
Film Editor - Nick Meyers
Music - Nigel Westlake
Review
There is something about PAPER PLANES that makes you want to reminisce the days of your childhood and take a trip down memory lane when you used to fold paper and make it into a flying object. It's definitely a tip of the iceberg in terms of balancing light-hearted drama and entertainment; PAPER PLANES is suitable to all ages and will appeal to a diverse audience
. I must admit, there are some big names in Australia that were involved in the process of making the whole project. Even Eric Bana was one of the producing executives of this film.
There's a lot to talk about the stars that had played their parts in the movie including the two known Aussie celebrities Edward Oxenbould and Sam Worthington. Young Ed is nicely carrying his innocence of youth as he is capturing the main young lead and he has already established himself a solid beginning to a prosperous career after also having appeared in ALEXANDER AND THE TERRIBLE, HORRIBLE NO GOOD, VERY BAD DAY (

click here

). The soon-to-be acting legend Sam Worthington is ideal for this supporting portrayal as the boy's widowed and seemingly careless father.
Although this is no joke to you that PAPER PLANES is an excellent motion picture, I had sincere doubts that Australia would once again beat Hollywood and give you an interest and inspiration of teaching kids how to make paper planes.
Star rating:
(9/10) Excellent Movie