WarGames
Release Date: 4th August 1983 - Australia
Production Companies
United Artists (presents)
Sherwood Productions (produced
in association with)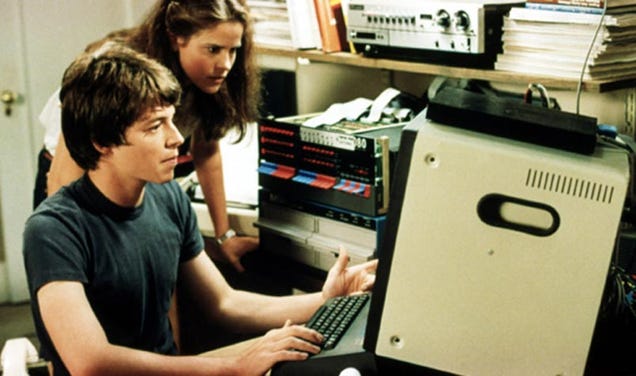 Genre:
Drama
Rating: PG
Runtime: 108 minutes


Budget: $12,000,000

Box Office Gross: $89,658,531
(Worldwide)
Plot Summary
Computer hacker David
Lightman can bypass
the most advanced security
systems, break the most
intricate secret codes and
master even the most
difficult computer games.
But when he unwittingly
taps into the Defense
Department's war computer,
he initiates a confrontation
of global proportions - World
War III!
Together with his
girlfriend
Cast
Matthew Broderick - David Lightman
Ally Sheedy - Jennifer Mack
Dabney Coleman - Dr. John McKittrick
John Wood - Dr. Stephen Falken
Barry Corbin - General Jack
Beringer
Juanin Clay - Pat Healy
Kent Williams - Cabot
Dennis Lipscomb - Watson
Eddie Deezen - Malvin
Crew
Director - John Badham
Writers - Lawrence Lasker and
Walter F. Parkes
Producer - Harold Schneider
Production Designer - Angelo Graham
Director of Photography -
William A. Fraker
Film Editor - Tom Rolf
Visual Effects Supervisor - Michael L. Fink
Visual Consultant - Geoffrey Kirkland
Music - Arthur B. Rubinstein


Awards

1984 Academy Awards
Best Writing, Original Screenplay - Lawrence Lasker
and Walter F. Parkers (Nominated)
Best Cinematography - William A. Fraker (Nominated)
Best Sound - Michael J. Kohut, Carlos Delarios,
Aaron Rochin and Willie D. Burton (Nominated)
Review
For many of my childhood memories include watching the old films that belong to the nostalgic 80's like THE NEVERENDING STORY (

click here

), the first TRON (

click here

), E.T. (

click here

) and even the SHORT CIRCUIT feature. I haven't mentioned one movie that doesn't compare itself to these family classics. For a film that takes place years ago when WARGAMES was made in an era when computers were an integral part of our lives, films like these have paved the way to other computer focused hits. At better, I felt this feature was
certainly not perfect in spite of its plot while thoughtful and thought provoking. Its predictability is just what prevents this film from going over-the-top even when it's aged in many years.
The original Hollywood teen sensations, Matt Broderick and Ally Sheedy who I thought did a good job in capturing their character personalities. This having been the first time Broderick has played a character who is a troublesome high school student; and many would consider Matthew's breakthrough he will soon play another troublesome teen who is more laid-back, less skilled of hacking and is very iconic as it ends with the name who would for all time be remembered as Ferris Bueller.
I know of WARGAMES as a film which influenced a new avenue for pictures to create stories that are similar to its originality and premise including SUMMER WARS, SNEAKERS and HACKERS as much-needed examples. It's nowhere near as flawless as it could have been with a bigger budget and better direction, but has a lot of memorable moments and it is nice to watch for people with an interest of computers. No hacking this post and just instead leave your opinions on the comment tab.
Star rating:
(7/10) Good Movie