San Andreas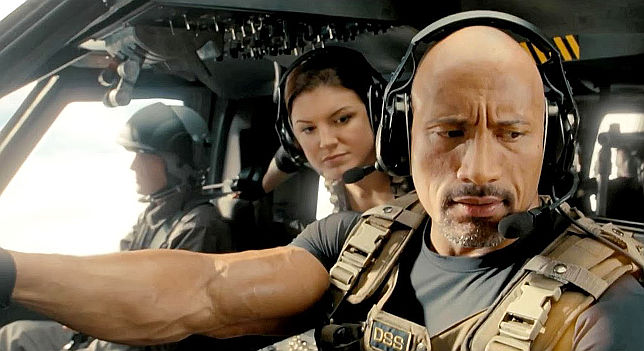 Release Date:
28th May 2015 - Australia
Production Companies
Warner Bros. Pictures
Village Roadshow Pictures
New Line Cinema
Flynn Picture Company
RatPac-Dune Entertainment
Distribution
Roadshow Distribution
Genre:
Action
Rating:
M
Runtime:
108 minutes
Budget:
$110,000,000
Box Office Gross:
$473,990,832
(Worldwide)
Plot Summary
A sudden and destructive
magnitude nine earthquake
leaves California in peril
as it tears through the state,
leaving a horrible path of
destruction in its wake.
As it rips apart the West
Coast bit by bit, Ray, a
rescue chopper pilot,
tries to make his way to
his estranged daughter
with his ex-wife before
it's too late.
Cast
Dwayne Johnson - Ray Gaines
Carla Gugino - Emma Gaines
Alexandra Daddario - Blake Gaines
Hugo Johnstone-Burt - Ben Taylor
Art Parkinson - Ollie Taylor
Ioan Gruffudd - Daniel Riddick
Archie Panjabi - Serena Johnson
Paul Giamatti - Dr. Lawrence Hayes
Will Yun Lee - Dr. Kim Park
Alec Utgoff - Alexi
Matt Gerald - Harrison
Todd Williams - Marcus Crawlings
Colton Haynes - Joby
Morgan Griffin - Natalie
Kylie Minogue - Susan Riddick
Crew
Director - Brad Peyton
Story - Andre Fabrizio and
Jeremy Passmore
Screenplay - Carlton Cuse
Executive Producers - Bruce
Berman, Richard Brener,
Toby Emmerich and Rob
Cowan
Producer - Beau Flynn
Co-Producer - Hiram Garcia
Production Designer - Barry Chusid
Special Makeup Effects - Tom Woodruff Jr.
Cinematography - Steve Yedlin
Second Unit Director/Stunt Coordinator - Paul Jennings
Stunt Coordinators - Keith Campbell,
Jon Devore and Allan Poppleton
Special Effects Supervisor - Brian Cox
Visual Effects Supervisors - Katherine Rodtsbrooks
and Colin & Greg Strause
Film Editor - Bob Ducsay
Music - Andrew Lockington


Review
It came without a disappointment and I haven't been in theatres to see a disaster film since I first saw Roland Emmerich's 2012 about in 2009. This recent movie mayhem of SAN ANDREAS is much different to this other film as there are both different stories that consistently feature a main character who is divorced/separated and revolved a life-threatening cataclysmic event. In other words, SAN ANDREAS shares some of its elements and though not in the same emphasis of destruction and mind blowing impact. This has never been firm that were a few cracks on the wall that could diminish this picture, I simply cannot tell whether if this is a home improvement to 2012 or not. Director Brad Peyton must've captured the reality and boasted the drama and the visual spectacle to make this an Emmerich-styled film.
Taking that time now all for good in this catastrophic blaze is the star-studded performances by Dwayne Johnson, Carla Gugino and Paul Giamatti. Dwayne however is a competent and probably the best suitable actor who will do much good for having the movie look as a bold, refreshing and splendid cinematic piece of ongoing tension.
The things I said about SAN ANDREAS are for the better, the more it was being a semi-decent school holiday feature. I may not know if I can watch it again, but I deem this to be a necessary film
for anyone old enough to watch it.
Star rating:
(7/10) Good Movie