Tad the Lost Explorer
Release Date:
10th August 2013 - Australia
Production Companies
El Toro Pictures
Lightbox Entertainment
Ikiru Films
Telecinco Cinema
Telefonica Producciones
Media Networks (in co-
production with)
Distribution
StudioCanal Australia
Genre:
Animation/Family
Rating:
PG
Runtime:
88 minutes
Budget:
€500,000,000
Box Office Gross: $51,300,000
(Worldwide)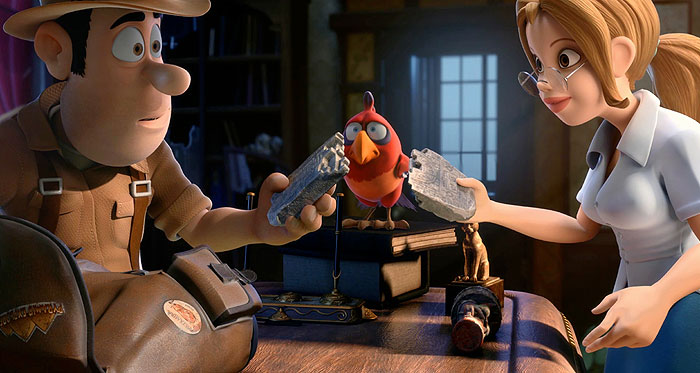 Plot Summary
Tad Jones, a frustrated
construction worker,
dreams of becoming a
dashing archaeologist.
His dream soon becomes
a reality after he pairs
up with a plucky
young woman and fight
unscrupulous treasure-
hunters on the search
for Inca treasure.
Voice Cast (English)
Kerry Shale - Tad/Kopponen
Fiona Glascott - Sara Lavrof
Adam James - Max Mordon
Enriqueta Linares - Melinda
Lewis MacLeod - Freddy
Mac MacDonald - Professor
Lavrof/Professor Humbert
Bruce Mackinnon - The Mummy
Liza Ross - Grandma
Maria Darling - Young Tad
Crew
Director - Enrique Gato
Based on Comic/Screenplay -
Javier Lopez Barreia and
Gorka Magallion
Screenplay - Ignacio del Moral
Screenplay/Producer - Jordi Gasull
Screenplay/Co-Executive
Producer - Neil Landau
Additional Dialogue - Diego San Jose
Additional Writing - Veronica Fernandez
Producers - Alvaro Augustin,
Ghislain Barrois, Nicolas Matji,
Ezequiel Nieto, Edmon Roch
and Cesar Vargas
Co-Producers - Flavio Balaguer,
Manuel Echanove and Werner
Schuler Schutz
Art Director/Character
Supervision/Compositing Supervisor - Juan Jesus
Garcia Galocha
Character Supervision/Cloth Supervisor/
Technical Animation - Ignacio Santalla
Animation Supervisor - Inigo Berasategui
Animation Director - Maximino Diaz Gerveno
Film Editor - Alexander Adams
Music - Zacarias M. de la Riva
Review
A certain foreign movie like this does never get the awareness it deserves, this probably what you won't call TAD THE LOST EXPLORER a great animated movie. It's neither a creative nor a visualised animated product; its only stability was to try parody INDIANA JONES just for pre-teens and young adults. Complete with unfunny jokes and clichéd plot does ruin the movie's sake and I'm completely interested about the action scenes. I did praise a few characters like the speech-impaired bird and did sooth things down a bit. Lacking more of what could have made TAD so special is the celebrity voice cast and a few more interesting characters, just present in absence.
Not the brightest bulb of CGI, but certainly a sub-par cake of enjoyment for one plot reached to deep thin. Shame that Pixar or Dreamworks have never made TAD THE LOST EXPLORER and this is only for young kids who would eventually learn of what archaeology is all about.
Star rating:
(4/10) Below Average