The Lawnmower Man
Release Date:
7th May 1992 - Australia
Production Companies
Allied Vision
Fuji Eight Company Ltd
Lane Pringle Productions

Genre: Sci-Fi
Rating: M
Runtime:
103 minutes
141 minutes
(director's cut)
Budget:
$10,000,000
Box Office Gross:
$150,000,000
(Worldwide)
Plot Summary
Jobe Smith is an adult with
the mental capacity of a six-
year old child whose uncanny
gardening skills have earned
him the nickname, "The
Lawnmower Man". Though
his mental deficiency has
made him the target of local
bullies, his innocence and
gentle manner has earned
him many friends.
Jobe's life changes forever
one day when he encounters
the brilliant scientist, Dr.
Lawrence Angelo, who hopes
to help Jobe attain advanced
intelligence though virtual
reality and a new drug that he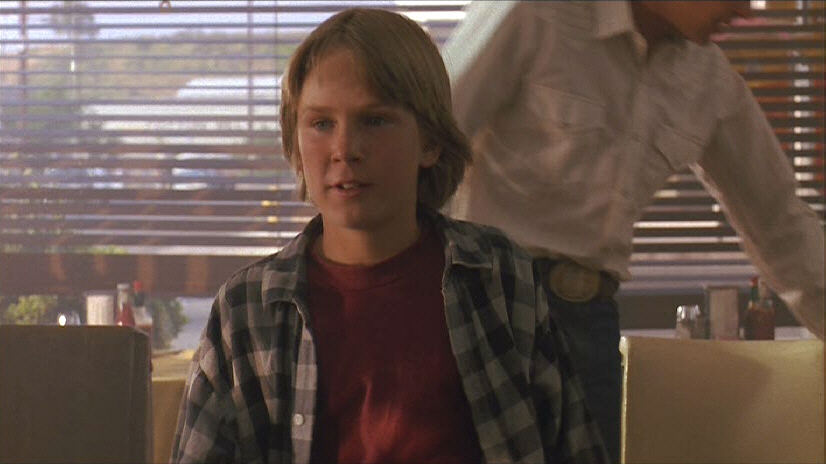 has developed. The results are
rapid, astonishing and before
long Jobe's mutant powers
have transformed him from
his former sweet self into a
hate-filled monster, with an
insatiable appetite for world
domination. Jobe's reign of
terror has just begun.
Cast
Jeff Fahey - Jobe Smith
Pierce Brosnan - Dr. Lawrence Angelo
Jenny Wright - Marnie Burke
Rosalee Mayeux - Carla Parkette
Austin O'Brien - Peter Parkette
Mark Bringelson - Sebastian Timms
Geoffrey Lewis - Terry McKeen
John Laughlin - Jake Simpson
Jeremy Slate - Father Francis McKeen
Dean Norris - Director
Troy Evans - Lt. Goodwin
Colleen Coffey - Caroline Angelo
Ray Lykins - Harold Parkette
Crew
Screenplay/Director - Brett Leonard
Second Unit Director/Screenplay/
Producer - Gimel Everett
Co-Producer - Milton Subotsky
Production Designer - Alex McDowell
Visual Consultant - Simon McGuire
Costume Designer - Mary Jane Fort
Director of Photography - Russel Carpenter
Visual Effects Supervisor - Francesco Chiarini
Supervising Sound Editor - Frank Serafine
Film Editor - Alan Baumgarte
Music - Dan Wyman
Review
THE LAWNMOWER MAN is a different kind of a movie that is unbelievable and a bit like the TRON series, only in virtual reality. Its groundbreaking but outdated computer-generated effects were excellent and this is one of Pierce Brosnan's earliest movies that he starred in before he became James Bond. This movie was an exciting science fiction experience which in the time of production was really original, innovative and complimented the sci-fi genre.
Unfortunately, the sequel to this movie is in no way compared to the original hit, also did not star the actor Jeff Fahey who played the main character neither our beloved Brosnan and his character.
Star rating:
(4/5) Good Movie