Titanic
Release Date:
18th December 1997 -
Australia
Production Companies
20th Century Fox (present)
Paramount Pictures (present)
Lightstorm Entertainment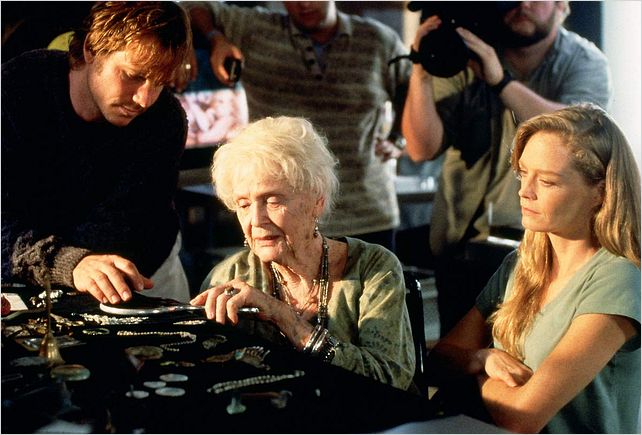 Distribution
20th Century Fox Australia
Genre:
Drama
Rating:
M (Not Suitable for
Young Children)
Runtime:
194 minutes
Budget:
$200,000,000
Box Office Gross:
$2,186,772,302
(Worldwide)
(This figure may change as new editions earn more money and increase the overall value of the box office gross)
Plot Summary
84 years later a 100-year-
old woman named Rose
DeWitt Bukater tells the
story to her granddaughter
Lizzy Calvert, Brock
Lovett, Lewis Bodine,
Bobby Buell and Anatoly
Mikailavich on the
Keldysh about her life set
in April 10th 1912, on a
ship called Titanic when
young Rose boards the
departing ship with the
upper-class passengers
and her mother, Ruth
DeWitt Bukater, and her
fiancée, Caledon 'Cal'
Hockley.
Meanwhile, a drifter and
artist named Jack Dawson
and his best friend Fabrizio
De Rossi win third-class
tickets to the ship in a game.
And she explains the whole
story from departure until
the death of Titanic on its
first and last voyage April
15th 1912 at 2:20 in the
morning.
Cast
Leonardo DiCaprio - Jack Dawson
Kate Winslet - Rose DeWitt Bukater/Dawson
Billy Zane - Caledon Nathan "Cal" Hockley
Gloria Stuart - Old Rose
Bill Paxton - Brock Lovett
Suzy Amis - Lizzy Calvert
Danny Nucci - Fabrizio De Rossi
David Warner - Spicer Lovejoy
Jason Barry - Thomas "Tommy" Ryan
Kathy Bates - Margaret "Molly" Brown
Victor Garber - Thomas Andrews
Bernard Hill - Captain Edward John Smith
Jonathan Hyde - Joseph Bruce Ismay
Eric Braeden - Colonel John Jacob Astor IV
Bernard Fox - Benjamin Guggenheim
Lewis Abernathy - Lewis Bodine

Crew
Writer/Producer/Director/Film
Editor - James Cameron
Executive Producer - Rae Sanchini
Producer - Jon Landau
Co-Producer - Al Giddings
Co-Producers/Unit Production Managers -
Grant Hill & Sharon Mann
Historian: Titanic Visuals - Ken Marschall
Production Designer - Peter Lamont
Costume Designer - Deborah Lynn Scott
Director of Photography - Russell Carpenter
Stunt Coordinator - Simon Crane
Special Effects Supervisor - Donald Pennington
Visual Effects Supervisor - Robert Legato
Visual Effects Supervisor: ILM - Dave Carson
Visual Effects Supervisor:
4-Ward Productions -
Robert Skotak
Visual Effects Consultant - John Bruno
Film Editors - Conrad Buff IV &
Richard A. Harris
Music - James Horner
Singer: My Heart Will Go On - Celine Dion
Awards
1998 Academy Awards
Best Picture - James Cameron and Jon Landau (Won)
Best Director - James Cameron (Won)
Best Cinematography - Russell Carpenter (Won)
Best Art Direction-Set Decoration - Peter Lamont
and Michael Ford (Won)
Best Costume Design - Deborah Lynn Scott (Won)
Best Sound - Gary Rydstrom, Tom Johnson,
Gary Summers and Mark Ulano (Won)
Best Film Editing - Conrad Buff IV,
James Cameron and Richard A. Harris (Won)
Best Sound Effects Editing - Tom Bellfort and
Christopher Boyes (Won)
Best Visual Effects - Robert Legato, Mark A. Lasoff,
Thomas L. Fisher and Michael Kanfer (Won)
Best Music, Original Song "My Heart Will
Go On" - James Horner and Will Jennings
Best Music, Original Score - James Horner
-------------------------------
Best Actress in a Leading Role - Kate Winslet
(Nominated)
Best Actress in a Supporting Role - Gloria
Stuart (Nominated)
Best Makeup - Tina Earnshaw, Greg Cannom
and Simon Thompson (Nominated)
Review
TITANIC is a beautiful, emotional and heart-warming Oscar-winning movie from director James Cameron and is based on the real-life story of the disaster of the ship Titanic. I enjoyed everything in the movie such as the acting of Leonardo DiCaprio, Billy Zane and Kate Winslet and the marvellous film score by James Horner. As for the one factor I haven't mentioned in the movie, Bill Paxton does a supporting role in the film and on five occasions, he pops in a James Cameron film, unfortunately I have not had a chance to watch these other films.
I must say that TITANIC is one of the best and greatest romantic drama and epic movies that was ever made. This was James Cameron's last film that he directed until AVATAR (
click here
) came along in 12 years later.
Star rating:
(5/5) Best Movie Ever