Minutemen
Broadcast Date: 12th April 2008 - Australia
Production Companies
Disney Channel
Salty Pictures
Distribution
Disney Media Distribution
Genre: Family
Rating: G
Runtime: 90 minutes
Budget: $5,000,000
Plot Summary
A high school senior and
his
so that future
generations of
students
won't have to endure
some of the more preventable
adolescent pains, only to find
that they have inadvertently
opened a black hole in the
process. Virgil and his pals are
determined to make life a little
easier for the less popular
students in their high school,
and in order to make that
happen they create a time
machine. But strange things
physics, and when Virgil and
friends open a black hole they
can have messy repercussions.
Cast
Jason Dolley - Virgil Fox
Luke Benward - Charlie Tuttle
Nicholas Braun - Zeke Thompson
Chelsea Kane - Stephanie
Jameson
Kara Crane - Jeanette
J. P. Manoux - Vice Principal
Stewart Tolkan
Steven R. McQueen - Derek
Beaugard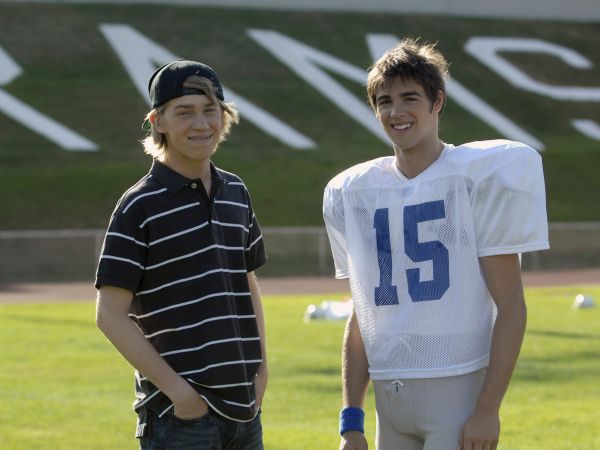 Dexter Darden - Chester
Kellie Cockrell - Jocelyn Lee
Molly Jepson - Amy Fox
Crew
Director - Lev L. Spiro
Story/Co-Executive Producers -
David Diamond and David
Weissman
Teleplay - John Killoran
Producer - Don Schain
Broadcast Producer - Barbara
Biddle
Production Designer - Mark
Hofeling
Director of Photography -
Bruce Douglas Johnson
Visual Effects Supervisor - Dan Schmit
Film Editor - Mark Conte
Music - Nathan Wang
Review
I haven't had the pleasure of seeing the teen movies from the family-oriented Disney Channel including the abominations of the movie series HIGH SCHOOL MUSICAL and CAMP ROCK. I won't bother reviewing these cringe-worthy flick trilogies, I have however watched a few of its original shows, but let's get down to one of its better TV flicks. For those who have already experienced the hilarious results of time travel in films such as BACK TO THE FUTURE and BILL AND TED, it is with regret that the film I am about to review does not even come close to the classic time travel hits. MINUTEMEN develops a concept of going through a portal device of time so that the character can become heroes in their high school. The film felt good but not great and certainly didn't offer any outstanding qualities to justify watching this rare film a second time.

I don't recognise many of the actors who were in their parts of the made-for-TV picture excluding Disney Channel's bad boy Jason Dooley. I felt he almost managed to live up to the standards of Michael J. Fox and Keanu Reeves when they were in their teens and I feel that Jason deserves a second-try for this one.

In summary, I think this flick is worth a one time watch, but if you are looking for something with long-lasting appeal; I suggest you try a big-budget time-travel hit.
Star rating:
(6/10) Fair Movie