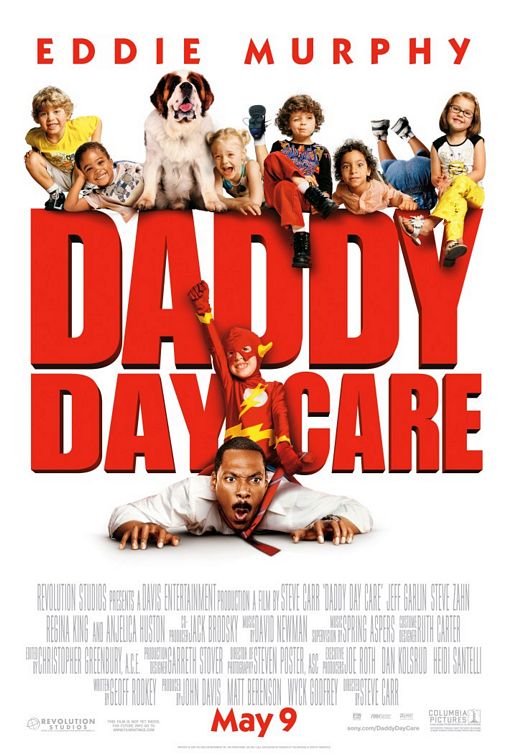 Release Date: 26th
June

2003 - Australia
Columbia Pictures (presents)
Genre: Family
Rating: G
Runtime: 88 minutes


Budget: $60,000,000

Box Office Gross: $164,433,867
(Worldwide)
Plot Summary
Charlie and Phil lose their
jobs, they're left at home
their kids at the prestigious
Academy. When they decide
to start
their own business,
But they're going to get a
bargained
for - a crash course
in fatherhood that will have
you in stitches!
Cast
Eddie Murphy - Charlie Hinton
Jeff Garlin - Phil
Steve Zahn - Marvin
Regina King - Kim Hinton
Anjelica Huston - Miss Harridan
Lacey Chabert - Jenny
Kevin Nealon - Bruce
Jonathan Katz - Mr. Kubitz
Lella Arcieri - Kelli
Khamani Griffin - Ben Hinton
Max Burkholder - Max
Shane Baumel - Crispin
Jimmy Bennett - Flash
Arthur Young - Nicky
Elle Fanning - Jamie
Hailey Johnson - Becca
Felix Achille - Dylan
Siobhan Fallon Hogan - Peggy
Lisa Edelstein - Crispin's Mom
Cheap Trick - Themselves (Cameo)
Crew
Director - Steve Carr
Writer - Geoff Rookey
Producers - John Davis,
Matt Berenson and Wyck
Godfrey
Co-Producer - Jack Brodsky
Production Designer - Garreth
Stover
Costume Designer - Ruth
Carter
Director of Photography -
Steven Poster
Editor - Christopher
Greenbury
Music Supervision -
Spring Aspers
Music - David Newman
Review
Throughout the ages, Eddie Murphy wasn't always the greatest film comedian around where other actors of the 80s began to become inconsistent. Over lots of features he is known to be proud of doing and I'm sorry to say to you that most of them are travesties like NORBIT, THE ADVENTURES OF PLUTO NASH and A THOUSAND WORDS. He is yet to make a comeback with his career to reclaim the talent that he showed in his glory days where he once had the success in the 80s. DADDY DAY CARE is the kind of film not to be taken too seriously and at the end of the day if you just want a film that is light-hearted and full of practical jokes and toilet humour than this would probably be a good film for you. Since Murphy fits the bill and is paired with co-stars Jeff Garlin and Steve Zahn in the cast also included is actress Anjelica Huston who I thought did a good job for her calm and antagonistic portrayal of the headmistress.
I was surprised that the filmmakers are making fun of the original series of Star Trek, because Steve Zahn's character is a typical fanboy stereotype. I enjoyed one scene when Eddie opens the door and discovers the whole bathroom is now in the grot.
Not one of my favourites but DADDY DAY CARE is a solid guarantee for the families that they should give it a chance and forget the all-atrocious sequel DADDY DAY CAMP.
Star rating:
(7/10) Good Movie