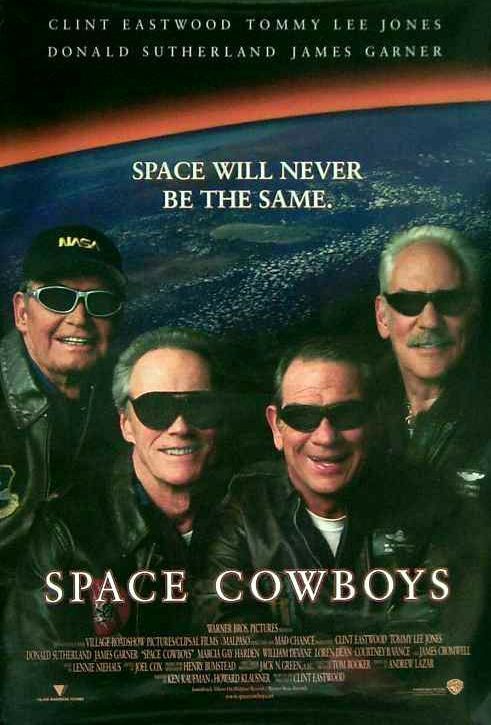 Space Cowboys
Release Date: 5th October 2000 - Australia
Production Companies
Warner Bros Pictures
Village Roadshow Pictures
Distribution
Roadshow Distribution
Genre: Action/Comedy
Rating: PG
Plot Summary
In 1958, Team Daedalus,
the elite U.S Air Force
test pilot team was in
training to become the
first Americans in space.
But at the eleventh hour,
NASA grounded the
mission, sending a
chimpanzee into space
instead. Team Daedalus
was forgotten to history.
Until now...
NASA has received a
distress call from the
Russian space control -
a giant Soviet era satellite
is threatening to crash
to earth resulting in a
global communication
blackout...

Only one team of astronauts
is familiar with the outmoded
technology of the 'Sputnik'
and competent enough
to carry out the dangerous
Frank Corvin and his crack
crew of Hawkins, O'Neil
and Sullivan are finally
about to get their mission
to space - even if it is
over
Cast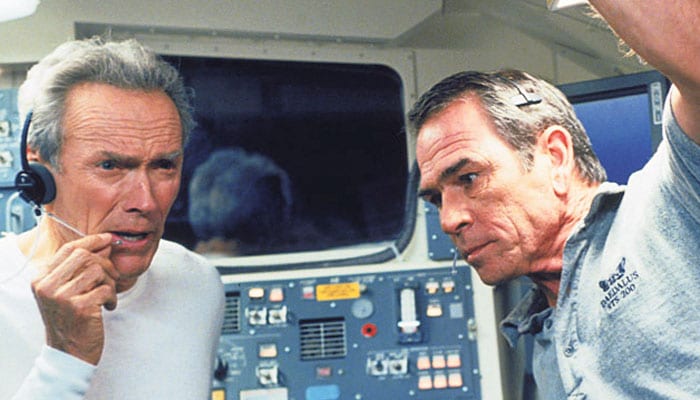 Clint Eastwood - Frank Corvin
Tommy Lee Jones - Hawk Hawkins
Donald Sutherland - Jerry O'Neill
James Garner - Tank Sullivan
James Cromwell - Bob Gerson
Marcia Gay Harden - Sara Holland
William Devane - Eugene Davis
Loren Dean - Ethan Glance
Courtney B. Vance - Roger Hines
Barbara Babcock - Barbara Corvin
Rade Serbedzija - General Vostov
Blair Brown - Dr. Anne Caruthers
Jay Leno - Himself
Toby Stephens - Young Frank Corvin
Eli Craig - Young Hawk Hawkins
John Mallory Asher - Young Jerry O'Neill
Matt McColm - Young Tank Sullivan
Billie Worley - Young Bob Gerson
Crew
Producer/Director - Clint Eastwood
Writers - Ken Kaufman and
Howard Klausner
Producer - Andrew Lazar
Production Designer - Henry Bumstead
Director of Photography - Jack M. Green
Special Effects Supervisor - Joe Fraizer
Visual Effects Supervisor - Michael Owens
Additional Visual Effects Supervisor - Scott Farrar
Film Editor - Joel Cox
Music - Lennie Niehaus


Awards

2001 Academy Awards
Best Sound Editing - Alan Robert Murray and
Bub Asman (Nominated)
Review
In 2002, I first saw the movie SPACE COWBOYS on pay-TV
when it was on at midday
and then I forgot its existence as I recently became a film critic. In

2014,

I have been interested in its director and one of its leading actors Clint Eastwood since I watched few of his classic westerns so I revisited this movie.
It's fair to say that the old put the old school into this space-age action-comedy, SPACE COWBOYS is daring to believe the second chances that people don't have an expiry date and that its important to stay young in heart and mind.
The movie can be unoriginal at times and the story sometimes feels like I have seen it before. This is more than made up for in return for some of its good points like the humour and the acting pair of Eastwood and Tommy Lee Jones who at best being the cantankerous old men and bounce each other really well. Other veteran leads that could pull off to this acting style is James Garner and Donald Sutherland. The visuals were a hard-copied blend of practical and CGI effects that can actually create a sequence to be in space as other movies can as in today's modern films such as GRAVITY.
Phenomenally it was enjoyable for all of us, we would never have been ready to see this film if it weren't for the combined talents of Clint, Tommy, James and Donald. It's no space western but I'm sure this title will mislead you from falling through that.
Star rating: (7/10) Good Movie